People at Sera
March 1, 2004
Introduction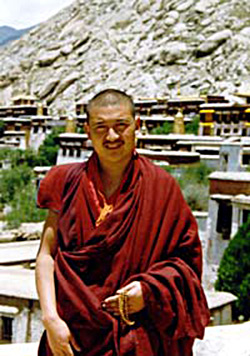 A monk of Samlo Regional House (Samlo KhangtsenBsam blo khang tshan), SeraSe ra-Tibet.
Like most Tibetan monasteries, SeraSe ra has always been a crossroads for a variety of people from different walks of life. First and foremost, of course, it is home to a large population of resident monks (drapagrwa pa).1 Before 1959, monks came to the monastery from different parts of Tibet, but also from Mongolia and Bhutan, and from several Tibetan-speaking Indian border-regions, like Ladakh and MönMon (presently part of the state of Arunachal Pradesh, India). There are even a few cases of Europeans and Japanese living and studying at SeraSe ra.2 Although foreigners are no longer allowed to live at SeraSe ra-Tibet, SeraSe ra-India has had a small population of non-Tibetan monks in residence from the 1980s to the present day. Recently, the Foundation for the Preservation of the Mahayana Tradition (FPMT) has even inaugurated a residence for foreign monks at SeraSe ra-India, called Shedrup Zungdrel LingBshad sgrub zung 'brel gling, "The Place for Combining Study and Practice." But the overwhelming majority of monks at SeraSe ra were, and continue to be, ethnic Tibetans.
Of course, on a daily basis there are many non-monks that can be found within the perimeter walls of the monastery (in both India and in Tibet). In Tibet, for example, pilgrims (nekhorkhengnas 'khor mkhan) from all over the Tibetan cultural sphere (and increasingly from non-Tibetan regions of China, and from abroad) will find their way through the monastery's gates. SeraSe ra-India attracts pilgrims chiefly from the refugee Tibetan population, but it has also become a pilgrimage site for the non-Tibetan students of senior SeraSe ra monks who have founded centers abroad.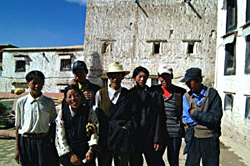 Pilgrims from the Penpo'Phan po region of Tibet pose for a picture in SeraSe ra, Tibet.
As the closest to LhasaLha sa of the three large GelukpaDge lugs pa academies, with over two-dozen temples in the space of a single square kilometer, SeraSe ra-Tibet is also popular with local lay worshippers (chönjel dronkhenmchod mjal 'gro mkhan) from the capital and surrounding areas. These individuals will often come to spend the day at SeraSe ra, where they make offerings in temples, request prayers and rituals, visit monk acquaintances and relatives, and have lunch under the trees behind SeraSe ra's restaurant. SeraSe ra-India maintains this same type of close relationship with lay Tibetan in the nearby settlement camps.
In recent years, LhasaLha sa school children (lopdrukslob phrug) come to the monastery on field trips. For them SeraSe ra is a place to learn about their cultural heritage. In India, groups of school children – both Tibetan and Indian – visit the monastery on a regular basis. And for some years now SeraSe ra, in both India and in Tibet, has been a popular stop for groups of foreign students who are part of education-abroad programs.
| | |
| --- | --- |
| Local worshippers make butter offerings into the butter-lamps in a chapel of one of SeraSe ra's regional houses (SeraSe ra-Tibet). | A young Tibetan girl, art supplies in hand, about to enter one of SeraSe ra's temples in Tibet. |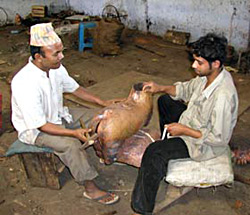 Nepali metalworkers, who live in the monastery, creating a statue in SeraSe ra-India.
Even before 1959 some lay people lived within the monastery. For example, the residences of some of the more important lamabla mas had special rooms for the lamabla ma's parents. Abbots had young, non-monk workers who would serve as their attendants; they would live in the abbots' household, and would accompany them as stewards whenever the abbot left his quarters. Laymen contracted for specific work – masons, artists, woodworkers, and construction workers – would often reside within the monastery until their work was completed. The majority of lay workers (for example, the lay kitchen staff), however, lived outside of the monastery. In both India and in Tibet, even today, because of the immense amount of construction and restoration work that needs be done in Tibet, non-monk workers (lechepalas byed pa) from different parts of the country take up temporary residence in the monastery for short periods of time while in the monastery's employ. In India, construction workers are usually members of the local Indian and Tibetan communities, and these individuals return to their homes at the end of the day. Because of the dearth of artisans in these communities, however, Tibetan painters and Nepali metal workers will often be brought in for specific projects, residing within the monastery for the duration of their contracted work.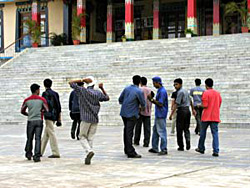 A group of young Indian men visit SeraSe ra-India as tourists.
Since the opening of Tibet to foreign tourism in the 1980s, SeraSe ra has become a site for tourists (dakorwalta skor ba). Especially during the summer months, busloads of ethnic-Chinese sightseers, and tourists from every corner of the world, visit the monastery on a daily basis. Tourists, of course, are a new addition to the types of people found at SeraSe ra, unknown in its history until the last two decades. In Tibet, the monastery survives in part from the revenues of tourism, charging foreigners a hefty admission fee. SeraSe ra-India is also increasingly becoming a tourist venue. It is now found in some of the tourist guidebooks of south India. Increasingly, Indian tourists come to SeraSe ra in large numbers.
Finally, and most recently, SeraSe ra has become the site for the Sera Project. In Tibet this has brought to the monastery a team of scholars and research assistants from the Universities of California and Virginia, and from the Tibet Academy of Social Sciences. Researchers (zhimjuk chekhenzhib 'jug byed mkhan) are of course different from tourists and pilgrims, falling in a category all their own, but we too are today a part of the SeraSe ra landscape.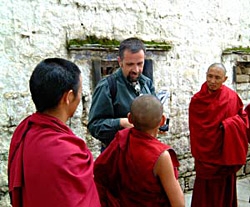 José I. Cabezón, the director of the Sera Project, interviews monks in SeraSe ra, Tibet, 2002.
Many different kinds people, therefore, can be found at SeraSe ra on any given day. They come to the monastery from different places, and with different goals and motivations. By Tibetan standards, SeraSe ra has always been relatively cosmopolitan. And globalization is making it increasingly more so.
In this portion of the Sera Project website, you will learn about all of these various kinds of people. Another portion of the "People" section – presently under construction, will allow you to learn more about some of the more important figures in SeraSe ra's history: its famous lamabla mas, abbots, and geshésdge bshes. In the sections that follow, though, our emphasis has been on giving you a sense of the types of people who lived in the monastery, and those who visited it.
Click on the various links in the side menu to learn more about that particular group:
Monks
Pilgrims
Worshippers
Tourists
---
[1]
In
Lhasa
Lha sa
especially there was a more "polite" term used for monks,
kuzhap
sku zhabs
. But in the great monastic academies, the term
kuzhap
sku zhabs
was reserved for recognized incarnations (
trülku
sprul sku
) also called
lama
bla ma
s.
[2]
For example, we know that the Italian Catholic missionary
Ippolito Desideri (1684-1732)
lived and studied at
Sera
Se ra
for a short time, and that the Zen monk
Kawaguchi Ekai
also lived at
Sera
Se ra
in the early part of the twentieth century.
#!essay=/cabezon/sera/people/
People at Sera, by José Ignacio Cabezón
Specify View:
Specify Format:

#!essay=/cabezon/sera/people/