Sera Utsé Hermitage (
Sera Utsé Ritrö
Se ra dbu rtse ri khrod
)
April 27, 2006
Location and Layout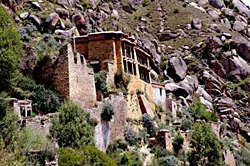 Sera UtséSe ra dbu rtse as seen from below.
The words "sera utsése ra dbu rtse," sometimes abbreviated Sera tsése ra rtse, literally mean "Sera Peak." The name is fitting since, of the several small hermitages (ritröri khrod) that are located on the mountain behind (to the north of) SeraSe ra, this is the one that is highest on the mountain, very close to the peak. Even at a brisk pace, it is a strenuous one hour to walk up to Sera UtséSe ra dbu rtse from SeraSe ra. Tradition has it that the site contained one of TsongkhapaTsong kha pa's (1357-1419) meditation huts or drupkhangsgrub khang, and so when Drupkhang Gelek GyatsoSgrub khang dge legs rgya mtsho (1641-1713) started living at this site at the end of the seventeenth or early eighteenth century, he came to be known as "the man from the drupkhangsgrub khang," or DrupkhangpaSgrub khang pa.
The hermitage was quite large before 1959. Most of it was destroyed after 1959, and only a portion has been rebuilt. What exists today is: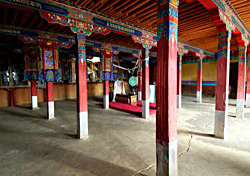 The assembly hall (dukhang'du khang) at Sera UtséSe ra dbu rtse.
One large building complex with two courtyards. This large complex contains:

A small assembly hall. Since only three monks live here, it is not in use, but it is still well maintained. The assembly hall before 1959 – which, in fact, may have been located in another building – contained a large metal statue of Vajrabhairava (Dorjé JikjéRdo rje 'jigs byed), a magnificent statue of Yamāntaka Ekavīra, statues of the Buddha and the sixteen arhats, a speaking Tārā (DrölmaSgrol ma) statue, large images of TsongkhapaTsong kha pa and his two disciples, and statues of the lamabla mas of the Drupkhang incarnation (Drupkhang TrülkuSgrub khang sprul sku) lineage. There were also copies of the KangyurBka' 'gyur and TengyurBstan 'gyur, and a KadampaBka' gdams pa stūpa. But no such statues or texts exist today, and indeed it is difficult to imagine them fitting into a temple this size.1
The lamabla ma's residence for the Drupkhang lamaSgrub khang bla mas consists of two rooms with a waiting room between them.
The meditation hut or "cave" where DrupkhangpaSgrub khang pa meditated has been made into a chapel, and has an ante-room.
A small protector deity chapel.

A separate hut built underneath a boulder was built by the patron (jindaksbyin bdag) who was responsible for financing the rebuilding of the hermitage.
A dilapidated kitchen that is no longer used.
Various and sundry smaller buildings that today are used mostly for storage.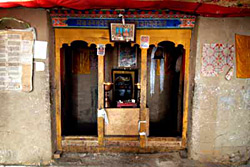 The entrance to DrupkhangpaSgrub khang pa's meditation hut.
---
[1]
Ser smad spom ra dge bshes ye shes dbang phyug
,
Sermé Tösam Norling Dratsanggi Chöjung Logyü Norbü Trengwa
Ser smad thos bsam nor gling grwa tshang gi chos 'byung lo rgyus nor bu'i phreng ba
[
A History of the Sermé Tösam Norling College: A Garland of Jewels
] (Bylakuppe:
Sermey Printing Press
, 1984), 140.
#!essay=/cabezon/sera/herm/utse/
Sera Utse Hermitage , by José Ignacio Cabezón
Specify View:
Specify Format:

#!essay=/cabezon/sera/herm/utse/